what is machine embroidery?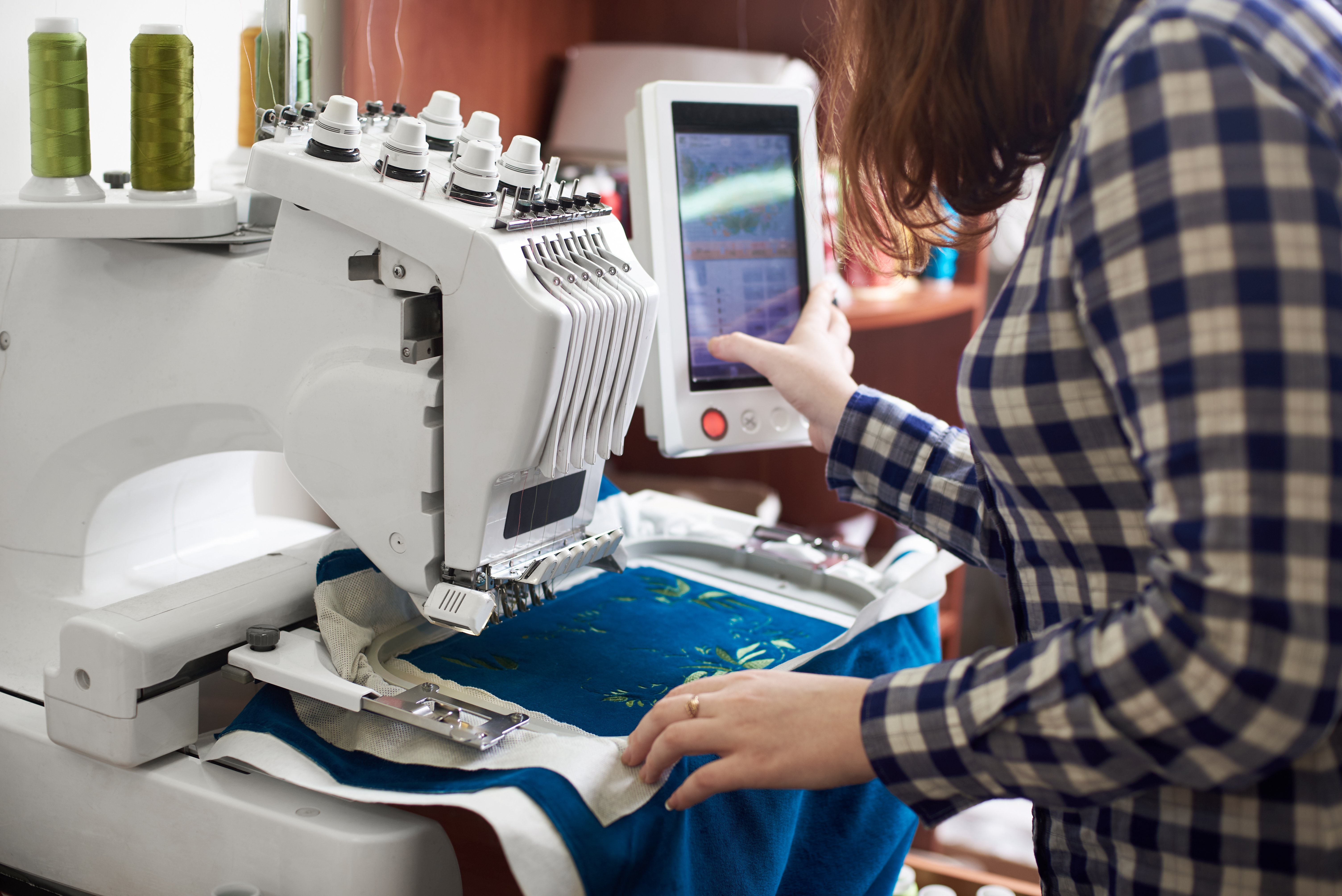 Machine embroidery allows you to add long-lasting logos, crests, and bespoke designs to your clothing or accessories. This is ideal if you want to create professional work uniforms for your staff or high-quality kits for your sports team.
But what is machine embroidery, how does it work, and what are the benefits of choosing this method over some of the others? We're going to answer all of the questions you might have about the process here. Read on to find out more.
What is machine embroidery?
The term "machine embroidery" refers to the process of using a sewing machine or specialist embroidery machine to create a pattern on a textile of your choice. It is most commonly used commercially, as it's a great tool for branding products or uniforms, but it can also be used to create patterns for purely decorative purposes. There are two main types of machine embroidery: free-motion and computerised.
With free-motion machine embroidery, designs are created using a basic zigzag sewing machine, but this can be quite limiting. It's also labour-intensive and very time-consuming, because the embroiderer is required to develop the design manually using the sewing machine's different settings.
On the other hand, as the name suggests, computerised machine embroidery is controlled by a computer. These industrial and commercial embroidery machines, like the ones we use here at Custom Planet, have a hooping or framing system that holds a fabric's embroidery area taut under the sewing needles. The area is then moved automatically by the machine to create the design from a pre-programmed digital embroidery pattern.
Embroidery machines will vary in their capabilities, and they all require different degrees of user input. Some will require you to change the thread colour during the process, while others will be able to trim and change colours automatically. Also, multi-needle machines can consist of numerous sewing heads, which means they can embroider multiple garments at once.
At Custom Planet, we always try to ensure we have the latest technology in order to create the best quality products possible. So, we have very modern embroidery machines that do most of the work for us. We simply load them up with the most suitable threads, attach your garments, and let the machines do their magic.
What does embroidered mean?
If an accessory or piece of clothing is embroidered, this means patterns have been sewn onto it with thread. This can be for practical or decorative purposes: for example, a business owner might want to have their company's logo embroidered on their staff's polo shirts, while a bride-to-be might want some fun T-shirts embroidered for her hen do.
There are a number of different types of embroidery, but we specialise in machine embroidery here at Custom Planet.
Digitising artwork for embroidery
Embroidery digitisation is the process of converting an existing piece of artwork, such as a company logo, into a stitch file that an embroidery machine can then read and use to replicate the design on a garment. We're experts in digitising artwork for embroidery, and we offer this service to anyone looking to have their clothing or accessories embroidered — you don't have to come to us with a design that's ready to go.
What thread is best for machine embroidery?
You can use a variety of threads when carrying out machine embroidery. Rayon thread is the most popular, because it's widely available, and has a very attractive sheen. It also comes in a huge range of colours, and it can withstand high-speed stitching without breaking or fraying.
Polyester thread is also a smart and popular choice for machine embroidery, as it provides a similar effect to rayon and also comes in a wide range of colours. It's resistant to shrinking, fading, and bleeding too, which means it's particularly great for kids' clothes and sports kits. The main difference between polyester and rayon is that polyester has less of a sheen.
Although cotton thread isn't as widely used for machine embroidery, it can work well. Although, it's worth noting that finer cotton threads can be weak and prone to snapping, so those that are on the heavier side work best when you're working with a machine. They're stronger and will provide more coverage.
Silk thread isn't as readily available or widely used as some of the others, but its strength means it lends itself quite well to machine embroidery. It comes in a selection of weights, but those on the heavier side are more suitable for machine work. And, when used, they have a lovely sheen, which is what gives silk embroidery its luxurious look.
Benefits of machine embroidery
When you're looking to have clothing and accessories branded or decorated with a design of your choice, there will be other techniques, such as printing and hand embroidery, that you can consider. But, there are a range of advantages to machine embroidery that will make it the most suitable choice for certain projects, and we're going to outline those here.
It's reliable
When branding or decorating a garment using machine embroidery, the equipment is provided with a design file. The design will then be copied onto your fabric, achieving an identical image each and every time. This means, if you're embroidering several pieces of clothing or accessories, they'll all be branded or decorated in the exact same way, which is ideal if you're mass-producing school uniforms or need to jazz up several hen do T-shirts to look the same. As long as the embroidery machine is set up correctly and in good shape, all of the work will also be completed to a high standard, so you can be sure you'll get fantastic results every time.
For this reason, machine embroidery is favoured for a lot of commercial jobs, but it can be used for a variety of different applications.
It's fast and efficient
As well as being very reliable, machine embroidery is quick, which means big jobs can be completed in a short space of time. While the designing of a logo might take a long time, once the design file is created, it simply needs to be fed into the embroidery machine, which will get to work. And, a lot of this process is automated, which means everything can be done with minimal interruptions.
Requires very little manual labour
Compared to some of the alternatives, machine embroidery requires very little manual labour, and this will often mean that it's a relatively affordable option. Other methods, such as hand-stitching, require a great deal of time and manpower, which you will have to pay a premium for. As a result, while it is still an investment, having your garments or accessories machine embroidered will typically be cheaper.
We hope we've answered all of the questions you might have around what machine embroidery is, digitising artwork for embroidery, and how to do machine embroidery.
Whether you're looking to brand your staff workwear, prepare stag-do T-shirts, or organise sports team kits, it's well worth considering our machine embroidery service. Not only will you get a very professional finish, but the job will be completed very quickly. Plus, you're likely to find it's a lot more affordable than some of the alternatives. If you decide to go down this route, make sure you get in touch to discuss your requirements.